Plastic food container material:
Disposable lunch boxes made of plastic mainly include PP polypropylene and PS polystyrene, both of which are non-toxic, tasteless and odorless. PP is relatively soft. Generally, the use temperature of PP is -6 degrees to +120 degrees, so it is special It is suitable for holding hot meals and hot dishes. It can be heated in a microwave oven or even steamed in a steam cabinet. The use temperature of modified PP can be controlled from -18 degrees to +110 degrees. The lunch box made of this PP can be heated except for It can be put in the refrigerator and used for refrigerating.
PS is hard and transparent, but it is easy to tear. PS starts to soften when the temperature reaches 75 degrees, so it is not suitable for holding hot rice and dishes, but PS has good low temperature performance and is the best packaging material for ice cream.
In order to reduce the cost, some lunch box factories use PP as the box and PS as the lid. The advantage is that the lid is transparent and the PS is harder. It can be made of thinner materials to reduce costs. However, consumers of this design must understand two materials Please remember not to put the whole box of lunch with the lid into the microwave oven for heating.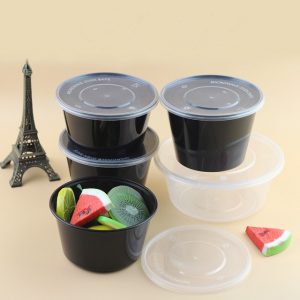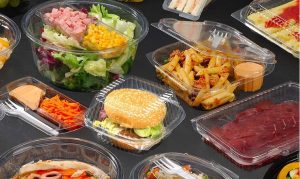 Paper material
Paper and Cardboard fast food boxes are made of 300-350 grams of bleached sulphate wood pulp paperboard as raw materials, and are made by die-cutting bonding or die-cutting pressing, shaping and other processes through a stamping process similar to sheet processing. In order to prevent oil or water seepage, it is necessary to coat the surface or apply chemical additives. In the process of production and use, it is non-toxic and has no side effects to the human body. However, the quality requirements for cardboard are higher, and the cost is also increased.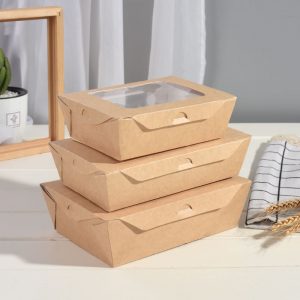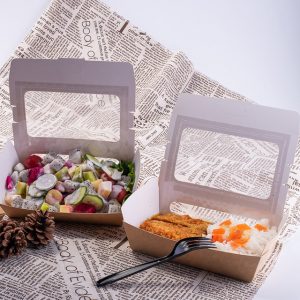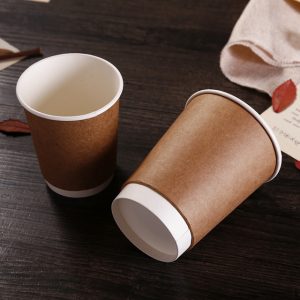 Biodegradable plastic lunch box
The raw materials for this type of lunch box are degradable plastics. The so-called degradable plastics are the addition of a certain amount of additives, such as photosensitizers, starch and other raw materials during the production process of plastics. In this way, the degradable plastic products are used up and discarded. After being exposed to nature for three months, it can be broken down into fragments by the complete shape, thus improving the environment.
The biodegradable lunch box is a relatively advanced environmentally friendly product.
It uses starch as the main raw material, adds annual plant fiber powder and special additives, and undergoes chemical and physical treatment to make a biodegradable snack box. Since starch is a biodegradable natural polymer, it is decomposed into glucose under the action of microorganisms, and finally decomposed into water and carbon dioxide.
In addition, the material blended with it is also a fully degradable material, so it can be said that it has no impact on the environment.
The main source of raw material starch can be corn, potatoes, sweet potatoes, cassava and other annual plants.
Naturally, most of the biodegradable production materials are food crops, which can completely replace foam lunch boxes without any pollution to the environment.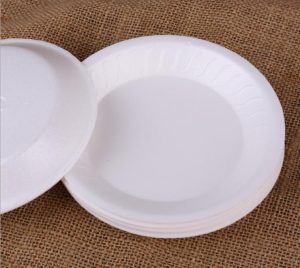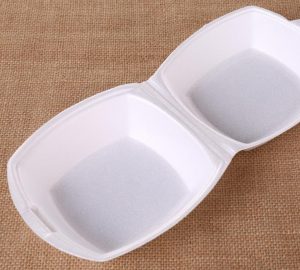 Advantages of aluminum foil lunch box
The product is light in weight, and the product meets the national food hygiene standards. Moreover, it is easy to recycle, no harmful substances are generated in the process, and it does not pollute renewable resources. The aluminum lunch box product series are mostly used in aviation food and cake food retail, and the update speed is fast and consumes more quantities. Suitable for sale in batches. Aluminum foil lunch boxes are often used in the cooking and packaging of finished food in cake food stores. The product market is wider and popular.
Aluminum foil has outstanding barrier properties. Under the premise that the thickness of aluminum foil is sufficient, it can basically completely block gas and moisture. Therefore, in plastic flexible packaging materials, aluminum foil is commonly used as a barrier material, and aluminum foil is light, airtight and packaged. A series of advantages such as good coverage. It is mainly hygienic, beautiful, and can be insulated to a certain extent.
The aluminum foil food lunch box is surface-coated and has no relationship with the thickness of the aluminum foil.
This kind of lunch box not only meets the national food container hygiene standards, but more importantly, it adapts to the international environmental protection trend. The product can be directly heated on the gas stove and baked in the microwave without fear of danger, which brings great convenience to people.
Used lunch boxes can be recycled and reused, which reduces pollution and saves resources. It is a good choice. In the context of people's increasing attention to environmental protection, this kind of lunch box has developed rapidly in recent years, and many companies have begun to seize the market, and the future prospects are infinitely broad.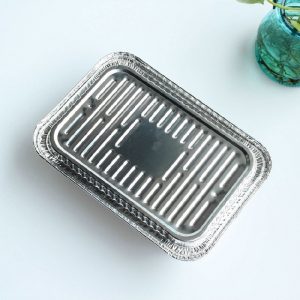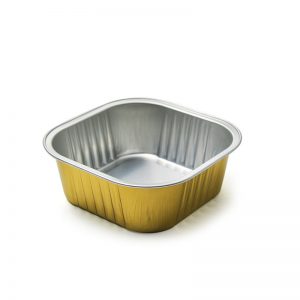 Glass food container
The disadvantage of glass tableware is that it is fragile. If used improperly, it is easy to cause explosion; glass tableware is clean and hygienic and does not contain toxic substances, but glass tableware sometimes "mould" because the glass is corroded by water for a long time, and the silicic acid in the glass Sodium reacts with carbon dioxide in the air to form white carbonic acid crystals, which are harmful to human health, so alkaline detergents can be used to remove them during use.