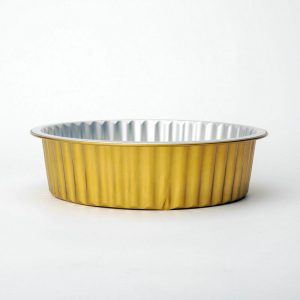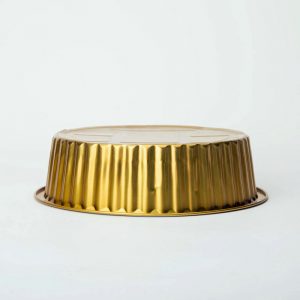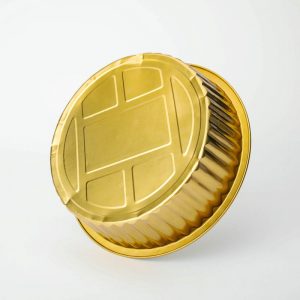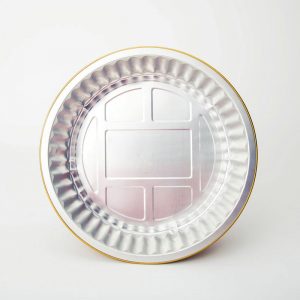 Product parameters
Size: 250x70mm
Capacity: 2500ml
Material: aluminum foil
Features
Round large capacity packing box, suitable for packing food with soup. Golden yellow appearance, simple atmosphere. High-quality food-grade aluminum foil paper, non-toxic and odorless, healthy, safe and environmentally friendly. Thick material, high temperature resistance, not easy to break.
Advantage
1. The product is light in weight and the product meets national food hygiene standards. And it is easy to recycle, no 'harmful substances' are generated during the process, and it does not pollute renewable resources. Aluminium lunch box product series are mostly used in aviation food and cake food retail, and they are updated quickly and consume a large amount. Suitable for sale in batches. Cake food shops use aluminum foil lunch boxes for cooking and finished food packaging. The product market is broad and its popularity is wide.
2. Aluminum foil has outstanding barrier properties. Under the premise of sufficient thickness of aluminum foil, it can basically completely block gas and moisture. Therefore, in plastic flexible packaging materials, aluminum foil is used as a commonly used barrier material, and aluminum foil has light weight and airtight And good covering properties. It is mainly hygienic, beautiful, and can be insulated to a certain extent.
3. This kind of lunch box not only meets the national food container hygiene standards, but also more importantly adapts to the international environmental protection trend. The product can be directly heated on a gas stove and baked in a microwave oven without fear of danger, which brings great convenience to people.
4. The used lunch boxes can be recycled and reused, which reduces pollution and saves resources, which is a good choice. Under the background of people's increasing attention to environmental protection, this kind of lunch box has developed rapidly in recent years, and many companies have begun to seize the market, and the future has unlimited prospects.